The idea of your dog not having a healthy relationship with kids can be daunting, whether you have children around on a regular basis or not. Teaching both kids and dogs to respect each other's boundaries and providing a safe environment for their interactions is vital to achieve a healthy relationship. A successful outcome relies almost entirely on parents and pet parents' skills, but it can be a challenge to figure out what the best approach is.
Since no one is born ready, the Maven Vet Team gathered some useful tips for you to put in practice right away!
Golden rules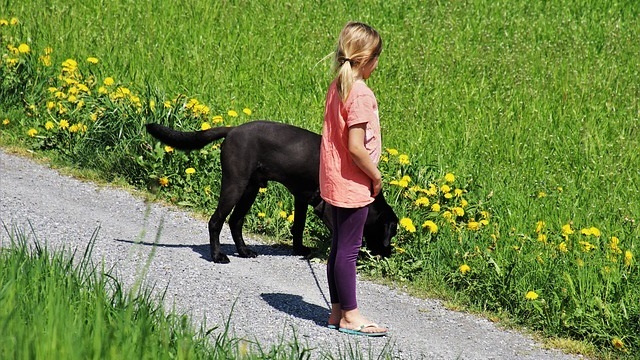 First things first: never ever leave kids and dogs unattended. No matter the children's age, and even if you have total confidence in your pooch's temper!
Safety, a sense of respect for each party's boundaries, and knowledge about dog behaviour. These are the basic principles to build a healthy relationship between your dog and infants.
Is tolerating the same as liking?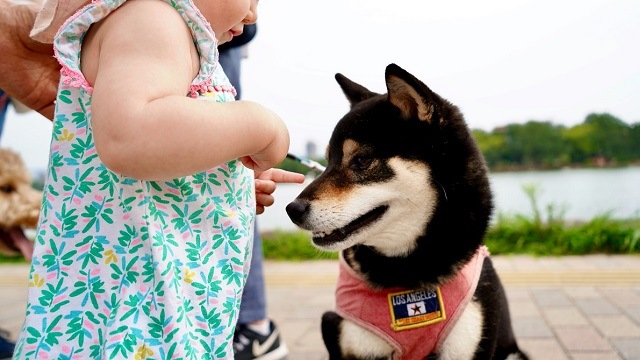 It's time to debunk the myth that some dogs like hugs. The great, great majority of our four-legged best friends who keep themselves together while being hugged, do not actually enjoy it.
The funny thing is that kids seem to love squeezing any ball of fur they see. Plenty of dogs learn how to tolerate it… But there's a huge difference between liking and tolerating, and that's when things can unexpectedly go sideways.
There's a limit to tolerance which, depending on the dog and on the situation, can easily be overstepped. This can lead to growling, snapping or even biting… So why risk it?
Let the dog be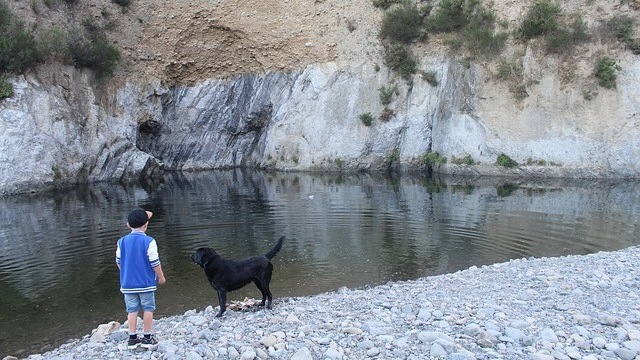 Let's be clear – "letting the dog be" doesn't mean not teaching them, or allowing unruly behaviors. Dogs should be taught social manners so that they learn how to properly interact with people. However, we should allow them to express their feelings and emotions, and respect their boundaries.
Kids should be taught a few things:
Not to wake up or disturb a resting dog, especially suddenly. They tend to pet dogs while they are sleeping because they look friendly, cute and peaceful… But even the friendliest pooch may get startled and instinctively bite.
Not to bother a dog once they self-isolate. In dog language, stepping down means that the interaction is not wanted.
Never to take something away from a dog, or go near them while they are eating, drinking or chewing on something. Toys and food are usually seen as highly important resources, making pets overprotective, and more likely to react.
Female dogs at the end of their pregnancy and dogs with puppies may also be overprotective, so it's important to keep some distance.
Ill or old dogs are usually in pain and uncomfortable, making them more easy to snap. Cognitive dysfunction may also be the cause of abnormal behaviors and reactivity.
Do not disregard what the dog is telling you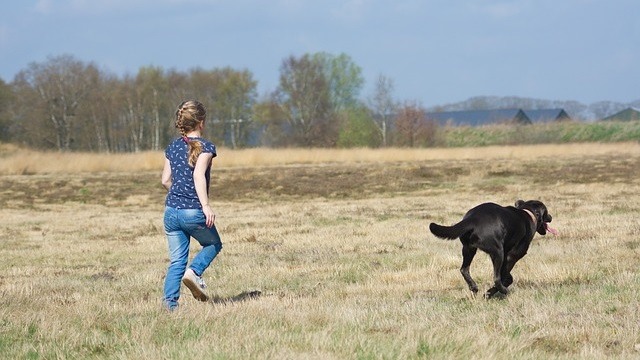 Signs that the dog is stressed should be acknowledged, and the dog should not be bothered or pushed. The context during which the behavior happens is essential to help us understand it, since many of these signs are also normal daily behaviors:
Licking the nose, if not related with eating;
Yawning or stretching, dislocated from sleep or rest;
Looking away;
Panting, if not related with hot weather, exercise or playtime;
Shaking-off, if not related to getting wet (bath or rain);
Moving away and sniffing the floor are avoidance behaviours important to acknowledge.
These behaviors should be monitored closely in order to ensure that both kids and dogs are having a good time together.
How a kid should approach a familiar dog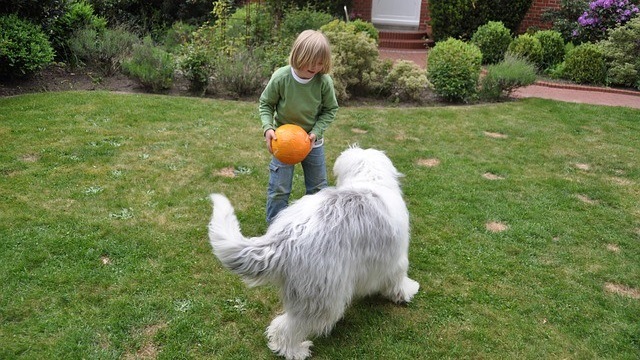 Even when interacting with their own dog or a familiar one, children should do it respectfully, calmly and without yelling. Here's a quick step-by-step guide for a healthy interaction between kids and dogs:
The first step is to call the dog and invite them for the interaction. At this point, children can make a small move towards the dog, as long as a safe distance is assured, and wait for the dog's reaction.
If the dog makes the next move and gets closer, then both are showing signs that they are willing to interact.
The child can keep approaching as long as the dog keeps showing signs that they are up to it.
If the dog goes away, the interaction should not be forced.
What if the dog is unknown?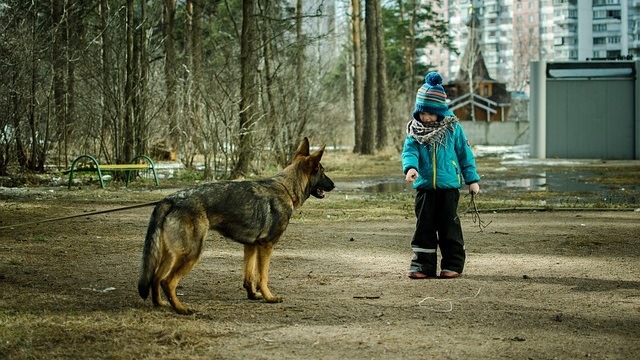 First off, the dog's owner should be asked if the dog likes kids. That question is much more accurate than only asking if the dog bites, or if you can pet them.
If a green light is given, the child may calmly present their hand, with the palm facing up, and let the dog approach and smell it. If the dog does that, the child can cuddle the dog.
Petting should be done on the lower part of the neck, therefore avoiding the face and the head.
What can be done on the dog's side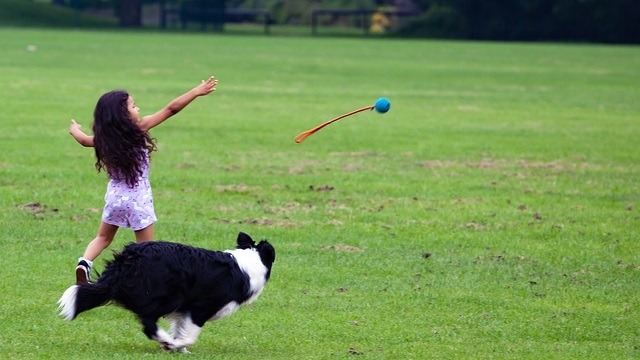 Dogs do wonders as social unblockers and as therapeutic support, but they have to be taught how to be around adults and children.
It's not only mandatory that your dog learns how to be handled (ears, mouth, body, tail, paws, etc) from a young age, but also that they establish positive links with kids.
Here are some examples of how to create these positive links:
Use a recording of children screaming and playing, and put it on while playing with your dog. The dog will have fun and feel relaxed while hearing the sound recording of loud children.
Walk your dog on the leash near a playground or a place where children are playing (it can even be during playtime at home). Reward your buddy for any good behaviors besides trying to chase or getting closer to the kids. For example, every time the dog sits, lies down, looks at you, smells the floor or shows interest in other stuff.
Provide calm moments between children and your dog. If there are kids around, try this – while your dog is asleep or resting, ask the child to read to them in a calm and quiet tone. Your buddy won't understand a word, obviously, but they'll feel the relaxed vibe while getting used to the infant's presence. Learning works both sides here – the child will also learn that if they are quiet, the dog will be too.
Conclusion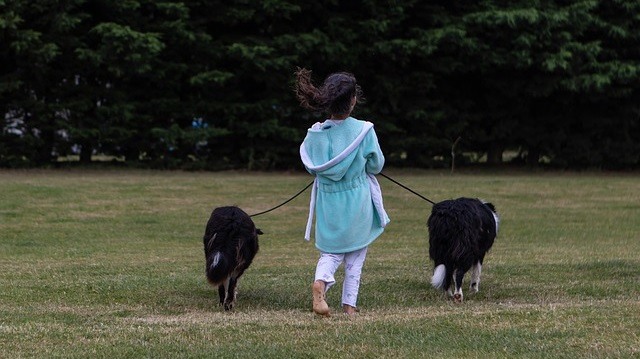 Promoting a healthy interaction between kids and dogs can be tricky at first, but it's definitely not impossible.
It's no surprise that babies, toddlers and young children are not aware of how their behaviour may affect dogs and trigger their fears and anxiety.
Additionally, dogs don't know how to adjust their excitement and emotions to these tiny humans if they're not taught well. Remember, our Maven vets have plenty of good tips under their sleeve in case you need them. We're here to help you through this journey!
---
---
Maven is all about proactive pet care. Be your best friend's best friend by giving them 24/7, high-quality, industry-leading vet care to improve their mental health, physical health and more. No more frantic googling or unneeded stressful visits to the vet – Maven helps you save hundreds while also ensuring your pet lives the best life possible. Get your kit now!