Maven CEO Guilherme Coelho has recently been interviewed by DeliveryRank. Read the full Maven Pet interview on DeliveryRank below!
Here's an excerpt:
Please share the story behind Maven: What sparked the idea and how has it evolved since then?
"Most pet owners consider pets as part of the family. Yet since they don't talk, how can we know if they're safe and healthy? This was the initial spark, in a nutshell."
"Existing traditional veterinary care solutions are reactionary. This means that an issue only starts being treated when the pet starts to show evident signs of affliction – and by then, it might be too late. We deeply believe that prevention is better than cure, and so we started working on a solution focused on the concept of providing proactive pet care."
"The Vet was always at the center of the idea – we'd collect the pet's data and the Vet would analyze it, using their unique expertise to provide decisive insights. And that's what we've been building upon! Through continuous monitoring of each pet's data and behavioral patterns, our Vets are able to dynamically make recommendations to improve their life. And if something unusual is detected, the owner will be notified at an early stage and advised on what to do next, potentially avoiding major complications."
Read the full interview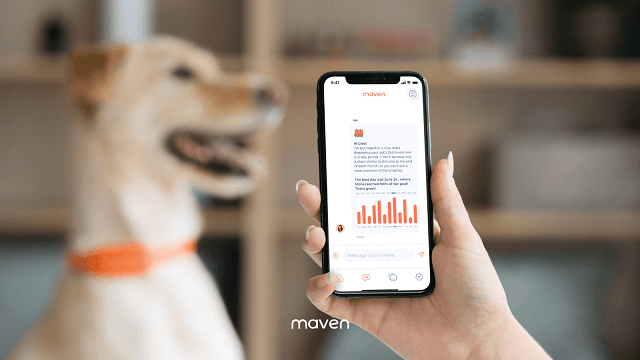 The interview covers a wide range of topics. From the story behind Maven and how the idea has evolved since it started, to how Maven works. Guilherme goes over what type of data is collected by the Maven devices and what information is accessible to pet owners. The discussion then moves to the role Artificial Intelligence plays in Maven, before ending on the topic of future plans.
Click here to read the full interview on DeliveryRank's blog!
What did you think of the Maven Pet interview on DeliveryRank? If you want to learn more about Maven and its inner workings, it's definitely an interesting read. Let us know your opinion in the comments!
---
---
Maven is all about proactive pet care. Be your best friend's best friend by giving them 24/7, high-quality, industry-leading vet care to improve their mental health, physical health and more. No more frantic googling or unneeded stressful visits to the vet – Maven helps you save hundreds while also ensuring your pet lives the best life possible. Get your kit now!