Christmas is a time of joy, love and togetherness, and the majority of pet owners aim to share the holidays with their four-legged best friends! Still, there are some concerns that should be taken into account for the season to go as smoothly as it is meant to. We have some pet safety tips for Christmas for you!
Keeping the tree in one piece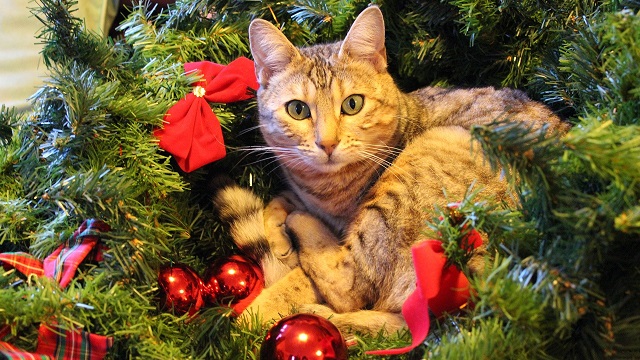 Christmas decorations – especially the Christmas tree – can bring a great deal of problems. It should not come as a surprise that pets get extremely curious and excited about the ornaments and lights… And of course, cats win every contest involving curiosity and eagerness to explore. So let's cut to the chase and just follow these pet safety tips for Christmas:
Place the tree in a corner of the living room. Anchor it to avoid it falling over your dog if they bump into it or your cat if they attempt to climb it.
Tinsel can add a nice sparkly touch to the tree, but it is almost impossible to be ignored – especially by nosy cats. If your feline friend is one of those, it's best to simply not go for tinsel! Make sure you hang it up out of your dog's reach as well. When ingested, it can seriously block animal intestines and surgery is usually required to solve the problem.
All kinds of tree ornaments, whether they are lights, baubles or edible items, should be placed on higher levels. Be careful if anything breaks, as shards may injure your pet's paws, mouth or other parts of their body.
If you have a living Christmas tree, make sure you clean the floor regularly. Pine needles can cause a stomach or intestine upset if ingested.
Other types of ornaments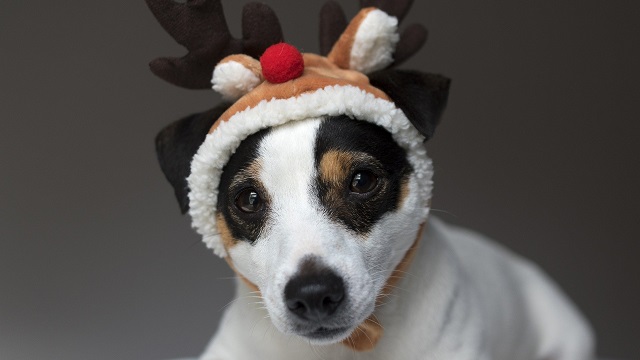 Concerning other types of ornaments, always place them out of reach and pay special attention to electric wires and candles. Ribbons, wrapping paper, and plastic packages are also potential hazards as they can be swallowed and lead to choking or gastrointestinal blockages.
Be careful with some seasonal plants, namely Holly and Mistletoe, as they are poisonous. Though Poinsettias are not, they can provoke vomiting and diarrhea when eaten.
The feast is for humans only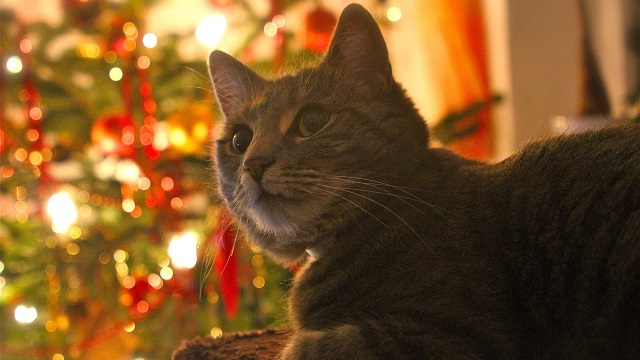 As with any other holiday, everything revolves around food and our furry friends know that by heart. As always, you must avoid sharing the feast with them! Mainly because some delightful human treats, like chocolates and sweets containing xylitol, are toxic and can put your pet's life at stake.
Grease, spicy food and bones shouldn't be fed as well, not only because there's a high risk of inducing gastrointestinal disorders, but also because they may cause pancreatitis, which is another life threatening disease.
Help your pet cope with the chaos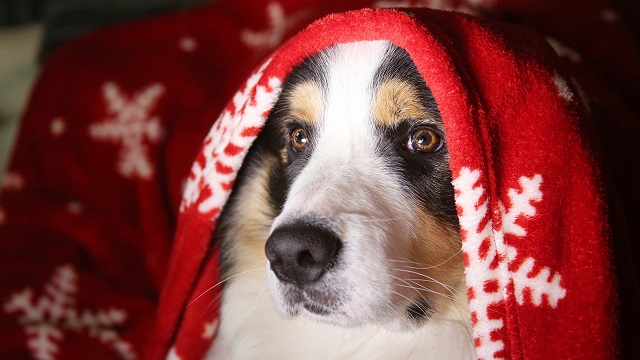 What should you do if your pet's not really an enthusiastic fan of Christmas? Planning ahead can help reduce stress.
First of all, provide a safe and comfortable space for your pet. Somewhere they can escape the fuss, snuggle and feel secure. Cats prefer to lie down in high spots, like shelves, or hide somewhere around the house.
Throughout the day, try to stick to the normal routines. Feed your furry friend at the same time as usual, and the same applies for walks. Your buddy will certainly be more excited, anxious and agitated, so let them to interact with guests at their own pace.
So are you excited already? Put these pet safety tips for Christmas in action, organize everything in advance and remember… If you have a cat around the house, it's wise to leave the traditional tree at the store and seek new alternatives!
In case you have any doubts along the way, feel free to get in touch with Maven's Vet team. We are always glad to help and guide you to better assist your "bestie"!
---
Maven is all about proactive pet care. It tracks your dog or cat's health and well-being 24/7, while the Maven Vet Team continuously analyzes their data and behavioral patterns to give you tailored insights that effectively improve your pet's life, and ultimately, their happiness. Get early access now at www.maven.pet